The essence of Provence
We think La Garde-Freinet is the very essence of Provence. A charming village of just the right size, with narrow streets, tiny stone houses and a local market held twice a week. There's always something to see, do – or eat. The village has two bakers, two butchers, two small grocers', antique shops, art galleries, clothing shops and an outdoor pool (open June–August).
It also boasts a number of restaurants (although some are closed during the low season) and some bars. And just in case, there's also a doctor, dentist, pharmacy, police station and fire brigade. Anything you can't find in La Garde-Freinet is available in the neighbouring villages Grimaud (9 km) and Cogolin (12 km), or in Saint-Tropez (21 km).
The region offers a plethora of festivities all year round, from the Chestnut Festival in October to the ball in mid-July. On Bastille Day, 14 July, the mayor serves wine and hors d'oeuvres in the town square.
History of the village
La Garde-Freinet dates back to the 8th century, and you can still see the ruins from a medieval village and a fort on the hilltop. The big cross erected on the slope is a famous landmark in the region, and the view from its foot is breathtaking. The village had its golden age in the late 19th century, when cork production was its main industry. Back then, nearly 2,700 people lived here, with some 700 people at work harvesting cork. Cork is no longer produced in La Garde-Freinet, so the population is down to 1,700. But you can still sit in the shade of a cork tree and just relax! In more recent history, the latter half of the 20th century was an exciting period in La Garde-Freinet, when the village became a popular watering hole for international celebrities. The most famous of these was probably "Lady Jane" Heaton, a British noblewoman and globetrotter who held lectures in the old village chapel.
What to do
Why not tour one of our many vineyards, where you can sample and buy fine wine. Golf is an all-year pastime here; there are four courses nearby and even more less than an hour's drive away. Our countryside is perfect for ramblers and there are no fewer than nine marked walking trails of varying length and difficulty around the village. Sun and sea are a stone's throw away by the coast. Saint-Tropez has a good selection of glorious beaches to choose from. Following the coast towards Marseille, you'll find any number of spots for a dip and plenty of great restaurants to choose from. If you feel like a longer day trip, then you might try Monaco or the mighty Verdon Gorge, both within easy reach. For more details of what's on, visit the La Garde-Freinet website, www.la-garde-freinet-tourisme.fr or www.aboutprovence.com. Don't miss our LGF magazines (see the links below) for pictures and inspiration.
Beaches and golf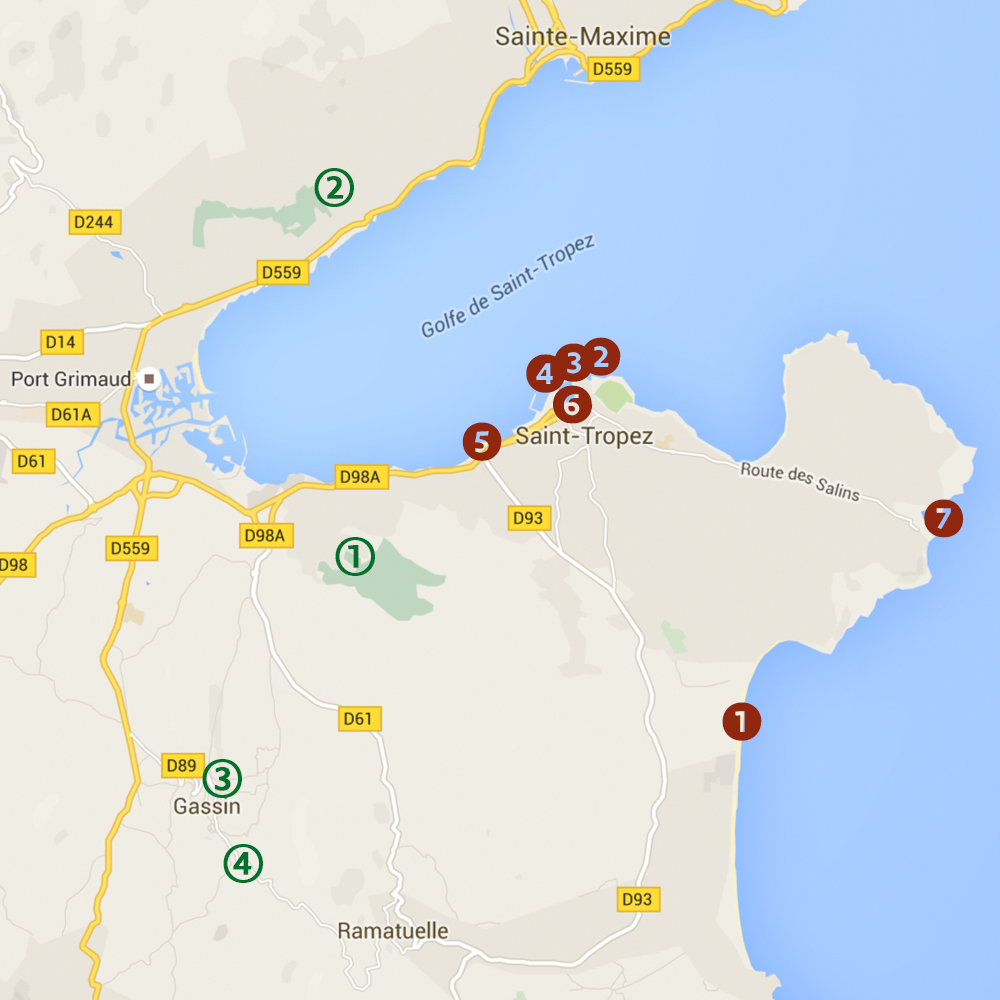 Pampelonne (1) is the longest, most famous and most popular beach.
Plages La Glaye (2), La Ponche (3) and de la Fontanette (4) are three small-to-tiny beaches fronting the oldest part of Saint-Tropez.
On the road out of Saint-Tropez, beyond the port and carpark, is the Plage de la Bouillabaisse (5). It's not the most beautiful Mediterranean beach, but it's easily accessible and has an incredible view of the Maures mountains across the bay.
Along the picturesque footpath Sentier du Littoral lies the Plage des Graniers (6). Hilly woodlands add to the rustic appeal of this beach.
The Plage des Salins (7) is the last beach before Pampelonne.
Source: The Telegraph
Golf
1. Golf Club Saint-Tropez
2. Golf Club de Beauvallon
3. Péninsula Golf Promotion
4. Aful Golf Country Club Gassin